Take Your Career Opportunities to the Next Level
CAWEB is designed to prepare you for a multidisciplinary career within the field of multilingual web communication. Through the combination of lectures, seminars, hands-on projects, and an optional work-study apprenticeship, you will gain a broad set of skills and have a wide variety of career opportunities available to you upon graduating. We're proud to say that the rate of employment after completing our program remains high among CAWEB graduates.
Wondering what careers await you after graduation? Take a look at some of the fields that will be open to you after receiving your degree:
Digital Marketing
Project Management
Localization
Visual Communication
Digital Marketing
Web Development
What our graduates do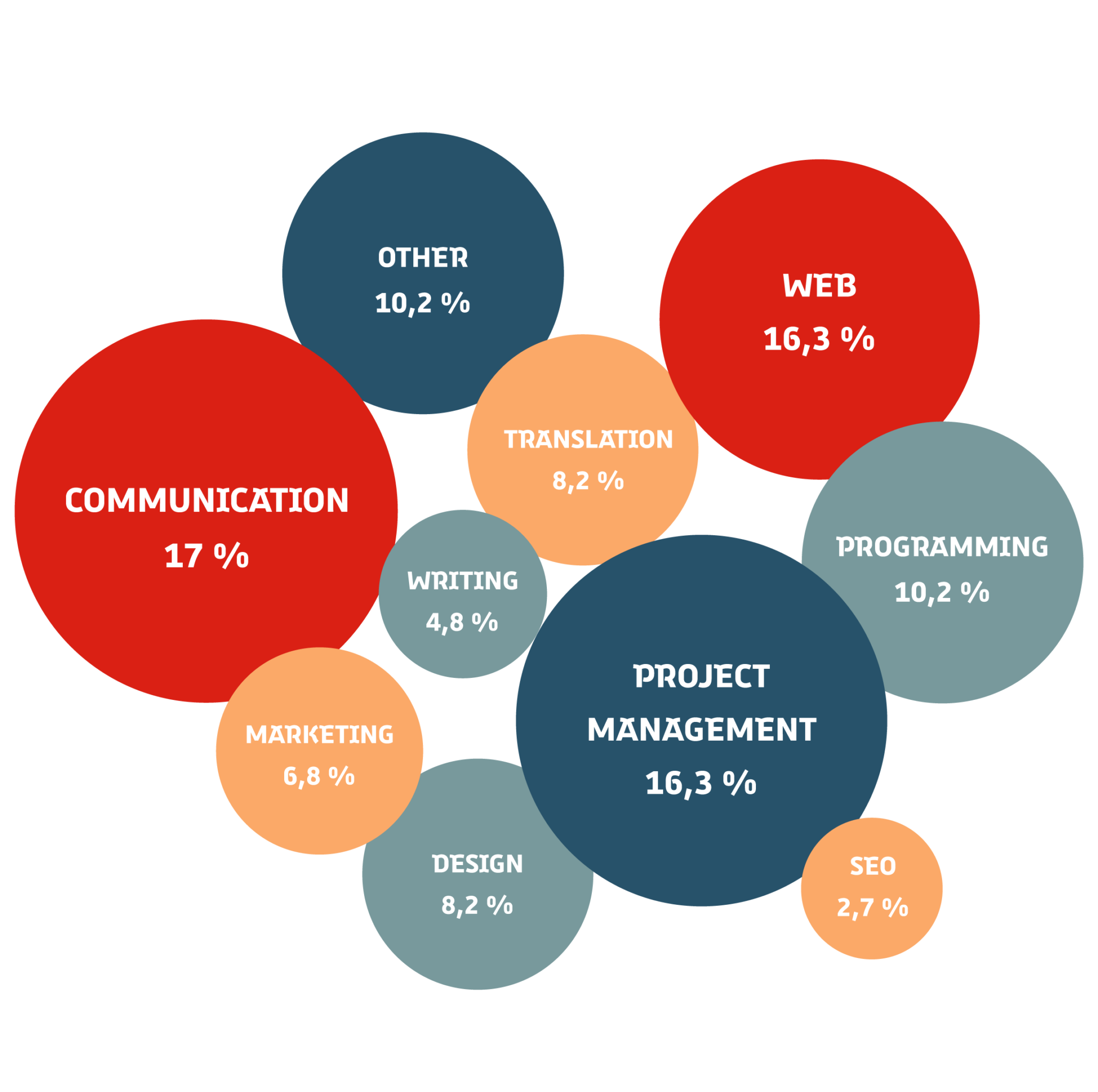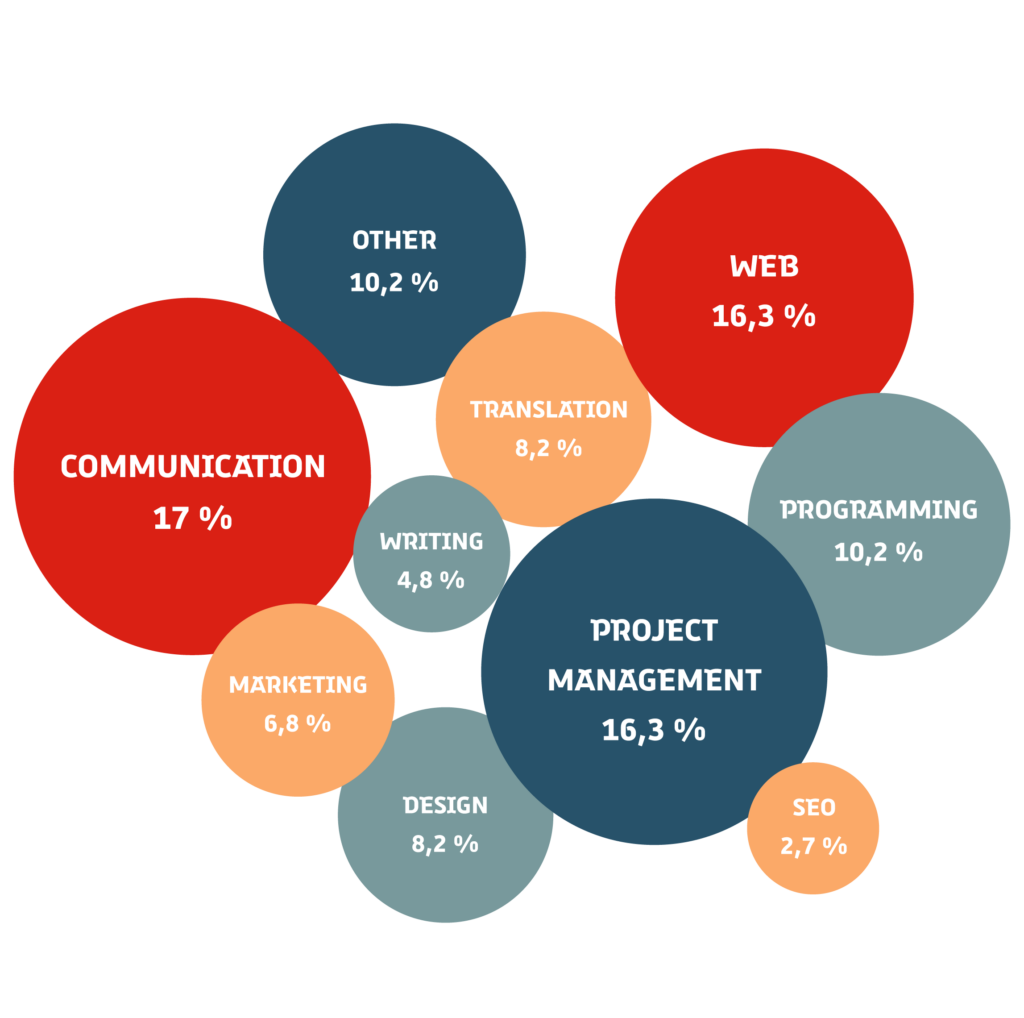 Where our graduates work

Project Management
Project Manager
Tasks:
A project manager supervises the team in charge of a project – for example creating a website They manage the relationship with the customer and work to analyze their needs. They also assess the feasibility of a project and develop the timeline and budget to execute it. Finally, they coordinate the work of the provider and internal and external resources, to successfully deliver the project on time.
Skills:
They are skilled at evaluating the stakes of each project, managing conflicts, and possessing the necessary skills to effectively manage the timeline, the resources and budget of a project. They have a good all-round view of many web technologies and skillsets.
Qualities:
They are diligent, organized, autonomous, versatile, and have strong analytical skills.
Webmaster
Tasks:
A webmaster is responsible for designing the website, updating it, and managing its content.
Skills:
They must master the different web languages used by the website(s) for which they are responsible (HTML, CSS, JavaScript, MySQL…). They must also master computer-aided production softwares (Photoshop, Illustrator…).
Qualities:
They must also have strong project management and organization skills.
Web Consultant
Tasks:
Web consultants provide advice and solutions to companies or clients in their field of expertise (ergonomics, SEO, responsive design…). They help to analyze the client's needs and train them to use a specific tool or software for their website.
Skills:
They are specialists in their field of expertise. They know how to manage projects, understand the environment and the business surrounding the web. They also have good marketing and communication skills.
Qualities:
They possess a vast knowledge of building good relationships with their clients, ranging from listening to their problems, resolving them, and to managing conflicts.
Web Tester
Tasks:
Web tester's main task, as the name suggests, is to test a website or a multimedia product before it is used by the public. They will then have to list all the malfunctions and monitor the progress of the modifications.
Skills:
They have good command of web programming languages and excellent problem-solving and analytical skills.
Qualities:
To become a web tester, you need to be diligent, organized, and diplomatic in nature.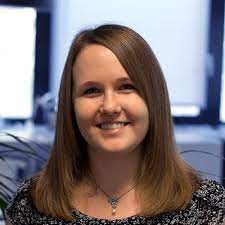 Marina Schnoerringer – Digital Project Manager – Class of 2016
The CAWEB master's degree was a good springboard to enter professional life and have the necessary foundations for the job of digital project manager. It provided me with the basic knowledge necessary for life in the company. The apprenticeship allowed me to expand and complete these foundations, and to experience a real professional evolution. Indeed, after one year of apprenticeship and one year of permanent contract, I moved from the position of assistant to that of project manager at Adeliom. I think I have come a long way since the CAWEB master's degree, but without this training and especially without the work-study program I don't think I would be here today. I therefore recommend apprenticeship to future CAWEB students, as it is an essential first experience to find a place in the working world.
Yannick Laurent – IT Consultant
The job of consultant, in my case, consists in working on 3 axes: audit, consulting, and training. The first is very simple, I audit the existing websites, strategies, infrastructures. For the second one, I work with the departments to implement technical or marketing strategies. The last one, training, is very broad. I train people in techniques, strategies or in change! What I appreciate about this job is the richness of the encounters. You must be a good listener, empathic, versatile and curious.
Digital Marketing
SEO Expert
Tasks:
SEO experts optimize how a website runs, such as the structure of each of its pages, in order to improve ranking on search engine results pages (SERPs).
Skills:
They work with many web analytics tools. They also have to study the architecture of a website in depth, and thus must know computer languages and codes (HTML, CSS, PHP…). Good writing skills are also highly appreciated.
Qualities:
They are curious, organized, pragmatic, and diligent.
Community Manager
Tasks:
Community managers create and manage content for social media accounts. They usually have numerous tools at their disposal to manage the content and to measure engagement.
Skills:
Social media is no secret to a community manager. They are familiar with monitoring tools and statistical analysis.
Qualities:
They are able to manage stressful situations and conflicts, such as complaints or bad buzz. They must be able to adapt to new IT tools. A community manager is also versatile and can adapt the way in which they communicate to a target audience…
E-Marketing Manager
Tasks:
E-Marketing managers participate in the development, design and online launch of the site, and then take care of keeping it active. They set up a marketing strategy and partnerships with other companies/websites.
Skills:
They possess solid knowledge of marketing tools, web programming languages, data analysis tools, and written communication.
Qualities:
They are creative and innovative and demonstrate a strong sense of analysis and teamwork.
Web Content Writer
Tasks:
Web content writers are responsible for writing the content of a website or an application and laying it out in a CMS. When writing the content, they must also think about SEO and optimize the text as much as possible for search engines.
Skills:
Excellent writing skills are essential. They must have spelling and grammar in their working languages perfectly mastered. He or she must also be familiar with and proficient in HTML and CSS (at a minimum) and content management systems, such as WordPress.
Qualities:
The ability to summarize and organize content are qualities that are mostly sought after in web writing. Curiosity and creativity are equally important for this position.
Justine Flesch – SEO Manager
I completed the second year of my CAWEB Master's degree as a web assistant apprentice for an advertiser, where I discovered SEO. What I like about SEO is that you're never done exploring the subject. In terms of expertise, it's a career that combines semantics, technique, and marketing. To be good at what you're doing, you have to closely follow the evolutions of the search engines and search habits of Internet users and be creative. You can never get bored! And the satisfaction of seeing your actions bearing fruit is unique, it's a bit like knowing how to read the Matrix. I love this job!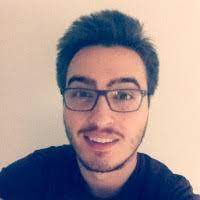 Axel Haube – Web Communications Assistant – Class of 2017
I am currently doing an apprenticeship at the 'Agence d'Attractivité de l'Alsace', within the 'Observatoire Régional du Tourisme d'Alsace' where I'm a web communications assistant. My role is to manage the Clicalsace.com website, which serves as a relay for key figures and important information about tourism in Alsace for tourism professionals. I also write articles for the website. I regularly create and send newsletters, as well as run social media accounts (mainly for relaying our latest articles). My main goals are to keep the site active, improve its SEO, monitor it, and write articles. The web writing and SEO courses of the CAWEB master's helped me a lot, and I intend to continue in this field after my apprenticeship.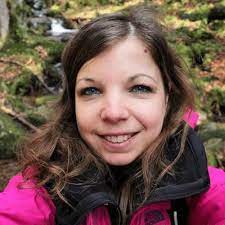 Nicola Cieciotkova – Digital Marketing Assistant – Class of 2017
I was a digital marketing assistant at Schmidt. The tasks I was given were quite varied and changed over time; the work was not monotonous and that's what I liked. Sometimes I was in charge of running their social media as well as producing and setting up a newsletter, and sometimes I was in charge of updating the content of the different websites (products, catalogs, translations). I also had tasks that were repeated throughout the year, such as updating store accounts for the website (creation, takeover, closure) and creating banners for retargeting campaigns. For me, the main advantage of CAWEB master's degree is its career-oriented aspect. I like having lessons from experts in the field who teach us about their day-to-day job, it prepares us for working in a real company.
Laura Detemmerman – Freelance Web Content Writer – Class of 2016
After graduating from the CAWEB master's degree and with the support of one of my classmates, I decided to work as an independent web content writer. I mainly work with web and editorial agencies who offer me content writing jobs for corporate websites or blogs. On a daily basis, I use what I learned during the CAWEB master's degree. The courses in project management, SEO, and web languages have given me essential basics for the practice of my profession. I particularly appreciate the evolutionary and stimulating nature of web writing. You have to be curious, know how to stay up-to-date on the latest SEO practices, meet various specifications, integrate content on different CMS, tag your content using HTML, and much more. To anyone who is doubtful about content writing, I'd advise you to really go for it because the CAWEB adventure is not only about acquiring skills delivered by quality instructors. You will be perfectly prepared for company life and you can always count on a dynamic network of graduates!
Visual Communication
Graphic Designer
Tasks:
Graphic designer's main task is to create a company's visual identity and to find visual communication solutions.
Skills:
They should have a perfect command of computer-aided production (CAD) software, such as Photoshop, Illustrator, and InDesign. They must also be able to work quickly to meet short deadlines.
Qualities:
They must have a strong sense of creativity and imagination as well as being diligent and independent workers.
Web Designer
Tasks:
Web designers are in charge of developing the visual identity of a company or a website. They are also involved in creating the visual image of a company and graphic components for the website.
Skills:
An extensive knowledge of design software and web programming languages, particularly for front-end web development, is needed for this job.
Qualities:
Having an artistic flair is obviously essential to be a web designer. It is also necessary to be diligent, independent workers, and creative.
UX Designer
Tasks:
The primary goal of UX designers is to design a system that improves the user experience and satisfaction when using web and mobile applications. They take into account the goals of their clients and match them to users' needs. They create wireframes for a product's interface that allow to structure the information on a web page and define the ergonomics of the product.
Skills:
They are skilled in marketing, information architecture, and digital communication development.
Qualities:
They demonstrate a good sense of analysis, observation, creativity, and written communication.
Programming
Front-End Developer
Tasks:
Front-End Developers translate a graphic design into computer code. They perform cross browser compatibility testing and check compliance with W3C standards. They also integrate content (texts, images, etc.) into a website. Their main goal is to fully understand customers' needs in order to best define the functionalities for a website.
Skills:
They are proficient in HTML/CSS, JavaScript and Ajax. They have a good grasp of several content management systems (CMS), code editors, W3C standards and image and animation editing applications. They are also familiar with the principles of ergonomics, accessibility, and SEO.
Qualities:
Front-End Developers are autonomous, versatile, diligent, and have the ability to work in a team.
Back-End Developer
Tasks:
Back-end developers are responsible for setting up, configuring, developing and maintaining the server, database and web application. Throughout the web development project, they work closely with the front-end developer.
Skills:
They have broad knowledge or programming and database languages, such as PHP, Ruby, Python, and SQL as well as in working with frameworks like Cake PHP, Symfony, Laravel, and Code Igniter.
Qualities:
They are organized, diligent, and self-motivated learners.
Full-Stack Developer
Tasks:
Full-stack developers ensure the programming of a website or application and are able to intervene at any time during the development process. They therefore have skills in many areas: UX/UI, back-end, front-end, etc. Their missions will vary and depend on the needs of the company for which they work. It also may be necessary to focus on a specific aspect or more global features when designing the site.
Skills:
Programming languages, graphic design tools, website integration and management, versatility, reactivity, creativity.
Qualities:
They demonstrate an excellent sense of creativity, versatility, and organization.
Nadège Thierry – Full-Stack Developer – La couleur du Zèbre
I followed the distance learning program of the CAWEB master's degree in parallel with my apprenticeship as a web developer. I still work in the communication agency that trained me. My tasks have grown over time: integration of models and creation of modules on different CMS (Drupal, WordPress, PrestaShop), development of custom applications.
Localization
Translator/Localizer
Tasks:
Translator's main missions are to translate content from a source language to a target language. They must also ensure that every translation is adapted to the target audience and localize it to a target culture.
Skills:
They must have a perfect command of their native language and a good knowledge of one or more foreign languages. They should also understand the different cultures of the languages into which he or she translates. They are familiar with CAT (Computer-Assisted Translation) tools such as SDL Trados Studio, MemoQ, XTM etc..
Qualities:
They must be able to work independently. If they are a freelancer, the translator must also maintain their reputation and network in order to be able to reach new clients.
Localization Engineer
Tasks:
Localization engineers translate from a source language into a target language. They adapt the content of a website, software, or other multimedia products to another culture, keeping in mind things like symbolism of images, colors, and other cultural factors.
Skills:
They must perfectly master their mother tongue and know one or more foreign languages. They must also know the target cultures and the necessary softwares. They also use softwares such as SDL Trados Studio, and KantanMT.
Qualities:
They must be able to work independently and have good analytical skills.
Video Game Localizer
Tasks:
Video game localizers are involved in the development of a game, and translates from a source language into one or more target languages. They adapt the game content (dialogues, instructions, etc.) as well as all marketing elements (trailers, press releases, advertising) to the target culture.
Skills:
They must perfectly master their mother language and be familiar with one or more foreign languages. The main quality required to do this job is to be able to adapt to a specific terminology and universe. They are sometimes required to translate with very little information about the context of the game. Being passionate about video games is also an advantage!
Qualities:
They must be able to work independently and creatively while adapting the game to the target culture.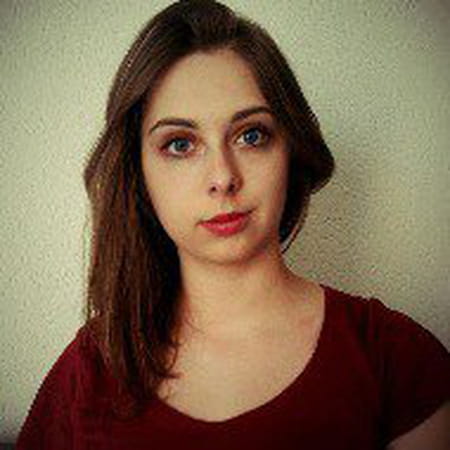 Camille Bellefleur – Translator – Class of 2017
During my second year of CAWEB master's degree, I had the opportunity to work as an apprentice in a translation agency. During the first year, the Trados courses allowed me to know the basics of the software without which I would not have got my apprenticeship. I also take care of project management. This profession combines many fields that I like: foreign languages, the editorial aspect, project management accompanied by consumer-oriented thinking that makes it possible to optimize a product to satisfy not only the agency's client, but also the end user.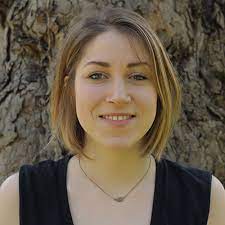 Madeleine Barois – Localization Engineer – Class of 2018
As a localization engineer at Telelingua International, I work closely with project managers to ensure a smooth workflow for translation projects of varying scopes and types. I regularly provide CAT tool support, devise strategies for managing translatable content in complex file types, and develop applications to automate and optimize various processes. CAWEB was an important springboard for me in this domain, providing useful insight into the language services industry and the technologies at its core. It also introduced me to the basic logic and building blocks of programming languages, which I now work with on a daily basis. Localization engineering is a great fit for graduates with a linguistic background and an interest in computer science.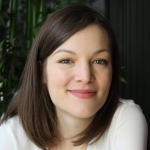 García – Video Game Localization Expert – CAWEB Instructor
Game localization is a complex industry where different skills and knowledge are required. But it is also so much fun. I have worked as a linguist, project manager and head of department in several game localization companies. The skills that are required to work in this industry are diverse:
linguistic background and a deep knowledge of your mother tongue and source languages;
wide knowledge of games industry and how video games from all genres work; organizational and problem-solving skills;
technical knowledge at different levels (CAT tools, variables, coding, etc.);
familiarization with the different text typologies, not only from a textual side, but also dubbing;
knowledge about testing; and so much more.
In this industry we can find different roles for different types of professionals, so it offers exciting opportunities to learn and grow. From freelance translators, to project managers in big games companies, there is a place for everyone with passion for languages and video games. The greatest satisfaction is to see how gamers around the world enjoy their localized versions, without even realizing that the game was created in another language.
Ready to Take Your Career to the Next Level?