You've never taken a picture of yourself using a Snapchat filter? Or even tried catching Pikachu or Charmander while playing Pokemon Go? Then stop whatever it is you are doing and let us explain everything you've been missing out on with augmented reality!
What is augmented reality?
Augmented reality (AR) makes it possible to integrate 2D or 3D virtual elements in a real environment. It simply means adding to or enhancing reality by laying over virtual information through a screen or glasses.
The purpose of using augmented reality is to stimulate all of our senses, not just vision and hearing. AR is an interactive technology because the user can access more features if he enables the information displayed in front of them, or more precisely if they activate the geolocation system.
Augmented reality is used in different fields such as marketing, video games, film, medicine or even television, but let's get back to that later. For now, let's explore the history behind AR.
When was augmented reality invented?
Let's go back in time a bit. Augmented reality did not start in 2016 with Sacha du Bourg-Palette. In fact, it started much earlier.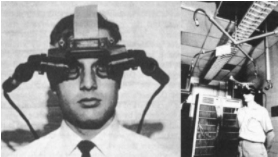 It first appeared in the 1960s, when Ivan Sutherland was doing research at MIT. At first, it was a helmet with two lenses at eye level, connected by an articulated arm directly to a computer. A 3D cube was displayed through the lenses and according to the user's head movements it was recalculated by the computer.

The Sword of Damocles, Ivan Sutherland
In the 1980's, the army developed and used HUD (Head-up displays) systems, which allowed information to be displayed through a small transparent screen in the driver or pilot's field of vision. Nowadays, this system is used in some vehicles and allows to display speed, signs, etc.
During this time, NASA did not stand by idly. They created the predecessor of what is now called Microsoft Hololens.
How does augmented reality work?
Now that you know what augmented reality is and when it was created, let's see how it works.
AR superimposes digital information on a real environment captured by a camera. For it to work, the following elements are needed:
A camera: most often a still camera that captures the user's environment.
Software: it will analyze the images recorded by the camera and display the corresponding virtual information.
Display support: it can be a screen, lenses, a semi-transparent mirror; the user sees the scene displayed directly.
What about marketing?
Because of coronavirus, lockdowns and store closures, many brands have had to reassess their sales strategy. For several years now, augmented reality has been in the news and has been used for immersive marketing, a practice used to make consumers feel immersed in the universe of the product or brand.
Using augmented reality on an e-commerce site influences the senses, enhances the image of the brand, improves the user experience and customer satisfaction, and most importantly, increases sales.
AR allows the consumer to interact with the product without even touching it, allowing for a new way of advertising. Communication can happen anywhere, anytime. All you need is a smartphone to try on a piece of clothing, makeup, or view an object at home.
Who is jumping on the augmented reality bandwagon?
There are so many different fields of application and potential markets that it is impossible to mention all the brands using it, and for this reason, we will only talk about a few of them.
Furniture stores
Ikea, the Swedish retail giant, allows you to preview furniture, tables, and chairs directly in your home, thanks to the ARKit application available on Apple devices. This helps facilitate purchasing.
Clothing stores
Adidas and Snapchat did a partnership where they allowed users to test the brand's new pair of sneakers. ASOS is among the first retailers in Europe to launch a trial of this technology. "See My Fit" allows a customer to see clothes in different sizes and on different body types. This allows them to know what to expect.
Cosmetics, jewelry, hair products
In 2014, L'Oréal tried an experiment that allowed users to test different cosmetic products such as lipstick, blush, and eye shadow directly on a picture of your face. The experiment was so successful that many other brands have followed in their footsteps.
Art, culture, and historical sights
Since cultural venues such as museums, castles, and other tourist sites are still closed, some of them have gotten creative by offering enhanced, augmented tours with engaging content. This fun and educational tool allows people of all ages to have a great time.
Automotive
Virtual reality is increasingly being used in the car industry to help the driver. You can now find cars with windshields displaying speed, accidents or signs, and of course, the navigation system.
Augmented reality already forms part of our daily life and its popularity is growing. The pandemic we are currently experiencing has been a catalyst for transforming the marketing and digital sectors. Shopping from home is booming and AR brings considerable added value to consumers.
So, the question remains: What does the future hold for this technology?
<details><summary>Sources<b> (click here!)</b></summary>-https://www.techslang.com/how-does-augmented-reality-work/
-http://innovatys-consulting.com/realite-augmentee-cosmetique-belle-illustration-de-bascule-vers-de-nouveaux-modeles-de-distribution/
-https://www.artefacto-ar.com/realite-augmentee/#:~:text=La%20r%C3%A9alit%C3%A9%20augment%C3%A9e%20(ou%20RA,int%C3%A9gration%20parfaite%20%C3%A0%20l'utilisateur.
</details>