Seventeen Master's students flew to Silicon Valley on October 3, 2015. During their stay, they had the opportunity to attend seminars in the web and translation fields. They also connected with the Middlebury Institute of International Studies (MIIS) at Monterey to work on future cooperation.
Ms. Renate de la Paix, director of the CAWEB Master's, is the mind behind the operation. Every year the Master's allows its students and alumni to thrive and succeed in a variety of web-related careers. This first trip to the West Coast is a reflection of the Master's dynamism and innovation.
Silicon Valley: A new international partnership
This project was made possible by a partnership between the CAWEB Master's and Le Job Silicon Valley. Founded by Leslie Dollet, this internship program is dedicated to assist European candidates wishing to get a first professional experience in the USA. This program is a great opportunity for the candidates to witness the region's success.
Silicon Valley is the driving force of international technological development. The region is known for its social and business ethics that supports innovation and entrepreneurship.
Home to many of the world's largest high-tech corporations (Apple, Facebook) and many prestigious universities (Stanford, Berkeley), Silicon Valley is the most attractive destination for students who aim for a career in the web or in the localization industries.
Enthusiastic students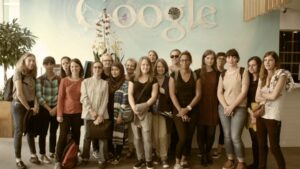 Charline, a distance learning student, tells us more about what is taking her to SV:
"I am currently an apprentice in a translation agency called Technicis. I intend to build my career in video game localization. This trip represents the opportunity to meet professionals and teachers from this field. I also hope to witness the "California-way-of-working".
Agathe, on the other hand, is an on-campus student working as a web-editor apprentice at De Dietrich :
"I can't wait to discover America's third largest high-tech center! I have strong interests in localization and web design and I hope to connect with some people working in that area".
Article written by Lola Bellaud, CAWEB Master's