Chatbots, or virtual customer service agents, are becoming increasingly present in our daily lives. Last year, we published an article about Replika, the emotional chatbot who wants to be your friend, in which we explained what actually lies behind this technology.
After having played a major role in e-commerce companies' growing success, chatbots are beginning to also entice public institutions such as local authorities due to their undeniable benefits. In this article, you will discover two major reasons why chatbots are an essential marketing and customer relationship management tool for your digital strategy.
Why should you create a chatbot for your product or service?
Speed and optimizing resources
Chatbots are available 24/7 and improve companies' and institutions' response time. Without any delay, users can immediately be informed about what you offer and also get answers to their questions.
Do people ask recurring and simple questions about your product or service? Chatbots can help to optimize the workflow of your customer support agents by responding to the most frequently asked questions and giving agents more time to handle cases that are specific and require more attention.
Personalized, near-human conversations
Chatbots are more than a simple FAQ or information page, they are an entity through which we can discuss and interact. Through just a few questions, a chatbot can learn the name, preferences, and habits of the person with whom it is conversing and use this data to provide relevant recommendations.
By mimicking human conversation, chatbots make it possible to humanize the digital customer service experience, even in the absence of physical customer support agents. To achieve this, in addition to giving the chatbot a name, a face, and also mirroring the rhythm of "human" messaging and response times, some companies choose to add emojis and a warm or even humorous tone in their messages. It is nevertheless recommended to adapt the personality of your chatbot to its target audience, such as using a more formal tone for a professional institution or agency.
What types of features to implement: Examples of chatbots in France
Responding to frequently asked questions
Sophie, a chatbot of "la Communauté de Communes Coeur Côte Fleurie" in France, answers users' questions about services concerning their community. In addition to providing personalized information about garbage collection, water, and the community, she can also replace the use of contact forms and thus gives a sense of real familiarity with the user's community. An important aspect for customer service!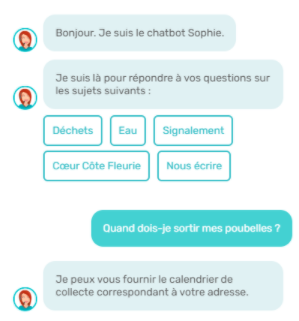 Conversation with Sophie, the chatbot of "la Communauté de Communes Coeur Côte Fleurie"
Purchasing products or services
Launched by the French train company SNCF in 2018, OUIbot is an efficient booking assistant. Through just a few questions, the chatbot offers you several trains and also different price options. Next, all you need to do is select the choice that works best for you and pay. For certain companies, this type of chatbot can be a powerful marketing tool.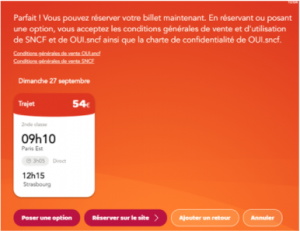 Train reservation assistance through OUIbot
Sending a selection of articles
20bot, the chatbot for the French media platform 20 Minutes, sends a personalized daily selection of five articles with themes previously selected by users. This idea can easily be adapted to other things; Why not apply it to newsletters, or a number of products, or events according to user's preferences?
Producing interactive content
Described as "media you can talk to", Jam Media has focused on interaction and entertainment. On their website, you can "discuss" current events with the chatbot. The bot regularly asks the users' questions and the content of the conversations updates based on the user's answers.
Conversation where the chatbot's reply changes depending on the user's responses
Using voice recognition features
Many chatbots make little use of vocalization by using only voice-to-text transcription. However, voicebots, meaning a conversational agent with whom it is possible to speak with verbally, allow users to perform searches while being away from their screen. Without being a vociebot, OUIbot is still equipped to voice command features, which are available on Alexa, Google Assistant, and Google Home. All you have to do is say a voice command to be able to book your trip.
Before embarking on the technical development of your chatbot, it is essential to consider all stages of its design. When considering the modeling of your chatbot, these phases may seem tedious to you, but are essential to ensure its success!
Article written by Sarah Buchmann