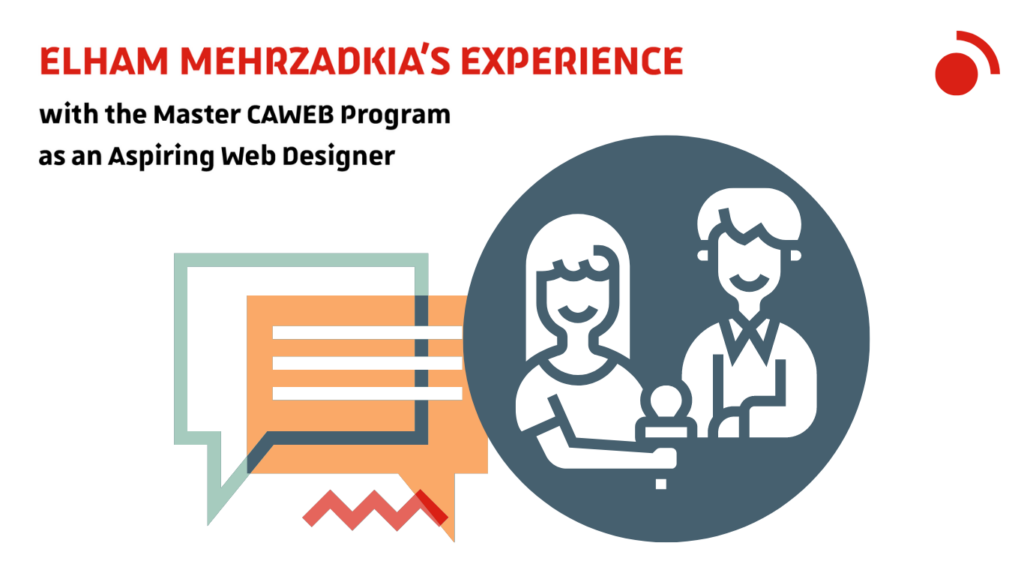 In this interview, Elham Mehrzadkia will discuss her experience with the master CAWEB along with her next steps after completing the master's program.
Elham Mehrzadkia is from Iran. Her educational background includes a B.A and M.A in translation of French, English, and Persian. Currently, Elham is a communications assistant for the University of Strasbourg's online master's programs (CAWEB & TCLoc). She has worked as a graphic designer for the website ANLEA. She has also worked as the director of the Acacia magazine (student magazine), as a freelance web designer and graphic designer. Elham is a big fan of YouTube tutorials. She believes for any problem; YouTube has a solution!
Elham's CAWEB Experience
Hi Elham, to begin this interview can you please discuss your professional and/or educational background prior to joining the Master CAWEB program?
Hello, my name is Elham. I 'm a second-year student of the Master CAWEB in Strasbourg, France and I have a B.A and M.A of translation of French, English, and Persian. I have worked as a director of the magazine Acacia for 2 years. One year ago, I started my career as a freelance web designer and front-end developer.

At the moment, I work as a communication assistant for the University of Strasbourg's TCLoc and CAWEB Master's. I study in France so I can speak English and French. In addition, Persian is my mother tongue.
That is very interesting! So, what aspects of the CAWEB program encouraged you to join?
Actually, this is my second master's degree. When I was choosing a master's program, I was looking for a program that would focus on both web communication and localization. The CAWEB Master's is what I wanted; it perfectly met my needs.
How did you learn about the Master CAWEB program offered by the University of Strasbourg?
Because of my educational background, France was always my first choice as a country where I wanted to continue my education. Since I was interested in the field of graphic design and web, I started searching for my future program specifically at the University of Strasbourg. One of my friends, who was a student at Unistra at that time, suggested that I look at the online program catalog offered by the faculty of languages. In my research, there was an option that suited me very well, so I found the Master CAWEB website and my journey with the program started right after.
Now that you have been in the program for two years, which aspects of the program, would you say, have been the most rewarding ?
The master's program is a very enriching and intense program in terms of content. Visual communication, digital marketing, web development, localization, content marketing, and project management are the fields that are covered In CAWEB. I also had a chance to work on improving the skills I have already learned. Through the courses, we created real projects as part of our training. In the first year, we had to do a web project from scratch for a real client. We were divided into groups. Each of us had a different role in our team such as a graphic designer, web developer. At the head of the group, was our project manager who defined the strategies and the main plans. I can confidently say that we had a real professional experience in the web domain.
In the second year, we had the opportunity to study in English from anywhere in the world. These are the points that make it unique. Besides, armed with real knowledge and skills, now I will be able to apply for jobs in different sectors : web communication, digital marketing, and localization. In other words, the program's diversity allows me to choose the industry that best fits my interests and goals so that I can build my ideal career.
According to you, which aspects of the program have been the most challenging (e.g. courses, projects, tools, etc.)?
One of the biggest challenges during my master's is the volume of work. It is a big change from what I have done before and the standards and expectations are also much higher. However, I personally believe that we can always find a way as nothing is impossible. Therefore, I looked for opportunities to join study groups. I asked my professors for advice, and I asked for help on where to focus my attention. Every week I set up a structured schedule with specific goals to make sure I was putting in the required time studying. It really worked!
Next Steps for Elham
I think you have a wonderful perspective on overcoming challenges! Have you thought about your plans after graduation?
My short-term goal is to become a professional web designer in a company. My long-term goal is to become a web art director. So, I plan on enhancing my skills in this field. Because websites contain very complex technical elements and having a diverse experience in this industry is a must. I also know this has been a common path for many people in this position.
Final Thoughts
Is there any additional information that you would like to share about the program or yourself?
I am so happy to be part of this program, and I believe that it is a smart investment for me. As you know, the web field has become the main part of our digital world, especially during the pandemic, so there is a significant demand for web professionals.

If you ask me, "What advice would you give your past self?". I would tell my past self to be super organized, pay attention to every detail, and do not underestimate yourself. We can do the impossible things that seem unimaginable, chase your dream even if it looks far away.
I love that motto and thank you so much Elham for sharing your experiences with me. I wish you all the best with the completion of your second master's degree and future goals!
Thank you!
About Interviewer
Madison Brown is a TCLoc intern and alumna of Louisiana Tech University. She is currently pursuing a career in technical writing. For questions or comments on this interview, add her on LinkedIn.